CTS Team Wins Top Mobile App Development Award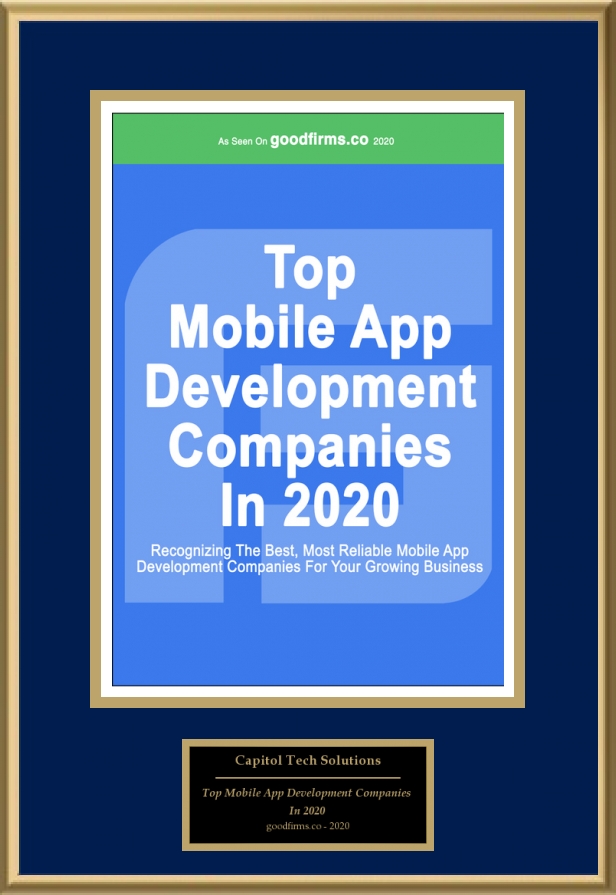 We are proud to announce that Good Firms Directory lists Capitol Tech Solutions as Top Mobile App Development Companies in 2020. Good Firms is a research organization that seeks to find the best performing companies in a wide variety of tech service industries. Good Firms has more than 60,000 services & software companies listed on their site. It is an honor to be recognized as one of the top performers.
What Winning the Top Mobile App Development Award Means to Us
This isn't the first time that we have been recognized by Good Firms. Our user experience team was recognized as one of the "top search engine optimization agencies that offer organic services by SEO experts." We take pride in achieving these awards as it demonstrates our tireless effort to be the best in our industry. "We are thrilled to be recognized as a leader in Mobile App Development," said Capitol Tech Solutions CEO Bobby Reed. "With the pandemic forcing businesses to be remote, we are able to help them adapt through innovative business solutions on mobile devices. We look forward to helping our customers and partners continue to evolve."
Proven Custom Software with Superior Customer Support
Our priority at Capitol Tech Solutions is to provide all our clients with the best work possible. The awards that we achieve are just another way for us to see that we are providing our clients with the best custom software. In addition to this recognition, we have also recently received an AVA Digital Gold Award, Davey Silver Award, Mobile Web Award, named by SEO Blog as a top-rated SEO Agency in California for 2019, and recently name by Yelp as the "Number one Sacramento Web Design Agency." We continually strive to make sure that all our clients are happy with their custom software solutions. Whether you need custom software or help with your user experience strategies, our award-winning team is here to help your business achieve success. Contact us today to learn more about how we can help your business grow.
Contact Our Team
Don't know where to start or can't find the local talent you need to launch your new digital masterpiece? Let our team of experienced professionals help you map out your next project or fix an existing one that needs attention.