Peace of Mind IT System Security 
We can help shape your internal networking work environment to be highly secure while losing no connectivity speed. Your devices will be protected from external breach attempts and virus free – if devices are somehow breached, we will catch it and help restore or repair any accidental data loss corruption. Our team works fast and when needed we can provide onsite support to help everything get up and running as quick as possible.
We deliver more than just security, providing our clients with on the spot IT support, assuring your day-to-day operations run smoothly and effectively. We help our clients setup new computers, monitor them and ensure they are functioning at peak performance. Any issues are addressed immediately by our desktop support specialists so you can focus on your business.
Importance of System Monitoring
System monitoring not only helps in catching security breaches but can also be used to detect the health and performance of internal devices, such as modems, routers, and computers. Detecting and repairing is often painless and fast when caught early. Our team can monitor all your devices in your system's work environment to help ensure you are always up and running while also remaining secure.
Protect your business and data with IT System Security & Monitoring
Managed IT Solutions Insights & News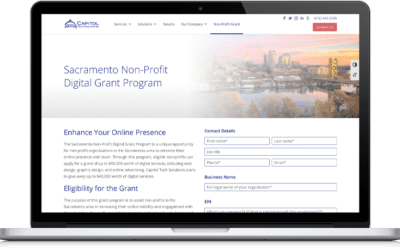 Sacramento-based digital agency invites non-profits to apply for multiple grants up to $10,000 by April 28Sacramento-based digital agency Capitol...
read more
Need managed IT support to protect your business?
Our team can help. Contact us to get started.