On-Site Managed IT Services
Our IT experts manage all aspects of your technical environment, from email and desktop support to network management, data security, and backups. Our team works with a proactive mindset, not waiting for a problem to occur before we act. We actively monitor your environment and regularly bring recommendations to you to avoid any technical issues. We are more than just your outsourced IT department, we are partners with our clients and realize our success is vital to their business.
We pride ourselves on our hands-on approach to resolve issues our clients may not feel comfortable bringing to our attention. Our team understands that even removing small issues helps improve employee productivity and is critical to a successful business. While we are a Sacramento-based company, we have partnered with multinational industry leaders. Our partners including Microsoft, Carbonite, and Kaseya to provide could-based solutions that streamline your business from top to bottom.
Optimize Your Business with the help of our IT Service Experts
Managed IT Services with a Local Advantage
Our IT Management Process
2. Data Protection & Cloud Back-ups
Thanks so much. You've made life so much easier!
Keep your business safe and secure with the help of Our IT professionals
Managed IT Related Articles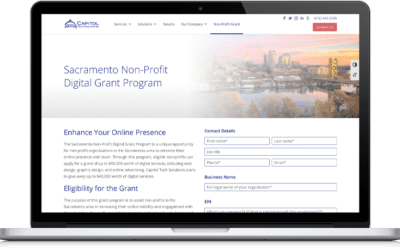 Sacramento-based digital agency invites non-profits to apply for multiple grants up to $10,000 by April 28Sacramento-based digital agency Capitol...
read more
Kick-start your managed IT strategy to streamline your business.
Our team can help. Contact us to get started.