Solutions for all your network needs
Technology has both advanced and complicated our office environments largely due to the necessity of the internet and digital data. Our team plays an ongoing role with your company where we set your office up and get all your devices connecting and working as fast as possible while also maintaining security. We can help with your computers, tablets, laptops, routers, modems, phones, digital conferencing and more.
Too many service providers are trying to automate the process and do everything remotely. Our philosophy believes the best tech support is done onsite, and we make it a point to visit our clients on a monthly basis to make sure all their technical needs are met.
On Site Assistance
Fast & Secure Network
Device Installation 
Secure Network connection 
Get on-site, reliable network equipment management from our experienced team.
Managed IT Solutions Insights & News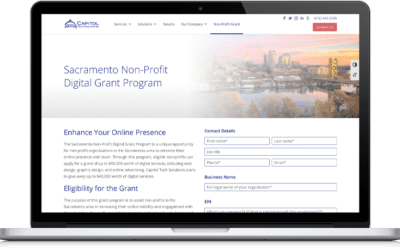 Sacramento-based digital agency invites non-profits to apply for multiple grants up to $10,000 by April 28Sacramento-based digital agency Capitol...
read more
Need managed IT support to streamline your business?
Our team can help. Contact us to get started.