20% increase in number of riders
10000+ new website visitors
In this Social Media Advertising case study, you're going to see how we helped the Rotary Club of Sacramento achieve record ridership for their annual Sacramento Century Fundraiser, which benefits the Sacramento Children's Home Crisis Nursery Program.
The Sacramento Rotary Club is the largest rotary club in the Sacramento Region, and one of the 20th largest rotary clubs in the world. They were established in 1914, and currently have over 300 members.
The Sacramento Rotary Club's largest annual fundraiser is the Sacramento Century Challenge, a bike ride that starts on Capitol Mall near the California State Capitol before winding through West Sacramento and some local wineries.
In 2018, the Sacramento Century Challenge had their 5th annual ride. For the previous 3 years, ridership had been declining, and the club was determined to change that trend.
As a component of their new marketing strategy, the club decided to engage with Capitol Tech Solutions to reach potential riders through social media channels.
The end result was record ridership.
Over 1,100 riders
Records website traffic
Facebook likes up 50%
Read the case study to find out our strategy for the record breaking fundraiser.
In addition to the successful results, we also won an award! We were honored by the Rotary District with a District Inspirational Public Image Award for the work we did in advertising the Sacramento Century.
Maximize your fundraiser! Contact Capitol Tech Solutions today to set records for your fundraiser!
Social Media Advertising Goals
The primary goal of any marketing campaign is more revenue. Non Profits invest in marketing to increase their fundraising dollars.
Social Media Advertising works great for a set target and short-term goals. For the Rotary Club, the primary goal was very targeted: more ridership for their major fundraiser.
The club also had secondary goals that would benefit the Rotary club in the long run.
More Awareness of Rotary in the Community
More Facebook page likes
More website traffic
More awareness for their primary beneficiary,
With the above goals as targets, we set off on implementing our online social media advertising strategy.
Social Media Advertising Process and Methods
The first steps in a successful Social Media advertising project is learning about the customer and their target audiance. We dive into all of the following during our first official meeting:
1. Current marketing and past successes
Who has attended in the past
What other groups are being targeted
Personas of typical attendees
2. Demographics
Who likes to attend bike rides
Other successful regional rides (Chico Wildflower)
3. Partners
How can we leverage our beneficiary's network
How can we leverage club members through social media?
4. Key roles and individuals
Our Social Media experts work with you to carefully craft a unique message on each platform to expand you reach and generate engagement.
5. Expectations and Deliverables
Analyzing your key success metrics allows our team to continually refine your marketing strategy around what works.
With a base knowledge of the current marketing, the target demographic, partners we can work with, and members we can leverage, we were ready to begin on developing the plan.
We researched other area bike rides and reached out to folks at the Chico Wildflower to ask about their successes in marketing, and their target demographic. Obviously, their event's target demographic was individuals that have an interest in biking. But they also found that cyclists would travel for rides, so their demographics extended beyond the immediate vicinity of the event.
We developed multiple graphics to A/B test against our defined demographics. Each graphic had a different message, some about the different types of rides, others about the beneficiary, and others about the wine region the ride route travels through.
We reached out to our partners to coordinate advertising with their networks, and contacted members of the club to coordinate with their local networks. We also put the technical pieces in place to track conversions through the website all the way to the final sale, so we could know how much was spent on ads vs. how much was raised.
Once the pieces were in place, we started advertising with a small portion of the budget, and fairly early in the process, with several months to go before the ride.
Social Marketing Advertising Implementation
With the plan set in place, we began to implement our paid social advertising. We initially went slow on the budget, mostly testing the ads. We were several months out from the race, and traditionally most people sign up closer to the race day.
But getting started early helped set the club on a great pace for sign-ups, and increased excitement about the event amongst the club members.
Also, in testing the ads using only a small part of the budget, we were able to determine what ads were working better on Facebook.
We focused primarily on the Facebook platform for advertising. Facebook has the ability to define a narrow target, so we focused initially on individuals interested in cycling and charitable work. We tested different age and location demographics as well.
In conjunction with the ads, we increased the organic social posting. While the ads ran, we noticed an uptick in Facebook likes, and mentions about the ads.
Initial results showed that the ad featuring the different rides was far outperforming the other ads.
By analyzing the data collected in the first month of running ads, we were able to narrow our targets and focus more of our ad spend on the ad performing the best. We ran that ad with different messaging to different targets for the final months.
The last month saw a significant increase in sign-ups, and our ad conversion rate increased up until the final day before the ride. By the end of the campaign our efforts led to record sign-ups, and a successful fundraiser for the Sacramento Rotary Club.
Want similar results from a top social media advertising agency? Let's get started!
Social Media Advertising Concrete Results
The results were tracked through facebook, and we set up the conversions in google analytics.
We accomplished the following record setting results:
1,100 riders (20% increase over previous year)
Over 10,000 new website visitors from the campaign
Over 200 new page likes
Cost per click under $0.30 per click for best performing ad
Over 400,000 impressions
Social Advertising Next Steps
So, what do you after you have record-setting fundraising numbers? You try to beat it the next year! Based on knowledge learned from last year's race, we've made some early recommendations for the 2019 event.
First, we had success running a Facebook Like campaign, and recommended it to the Rotary Club for future success and long-term brand building.
We know what ads worked for the previous year, and the demographics that responded most favorably, but we can always try more. We've had months to brainstorm new ideas, and we're excited to A/B test those ideas.
After the previous event, we revamped the website for better conversions, migrating it from a Wix platform to WordPress. This gives us more control for landing page configuration that will better match the ads, leading to better conversions for the upcoming year.
Our goal is to beat our ridership by 20%, with no increase in the marketing budget. Due to the additional audience built from the previous year, and the knowledge gained from the campaign, we believe we can beat that goal with ease.
We also plan to increase our retargeting budget on both Facebook and Google display ads, especially towards the final two weeks. People often wait to see what the weather will be, and we hope to take full advantage of beautiful weather with our retargeting in the upcoming year
I was thrilled with the social media advertising that Capitol Tech Solutions did for our Rotary Club's Sacramento Century fundraiser. Thanks to his efforts, we were able to attract 1100 bike riders to participate in the ride and we raised $115,000 to support our beneficiary, the Sacramento Children's Home Crisis Nursery Program. CTS did an outstanding job and I give then my highest recommendation.
Don't just take it from us. Hear what the clients perspective is as well.
Articles You May Find Helpful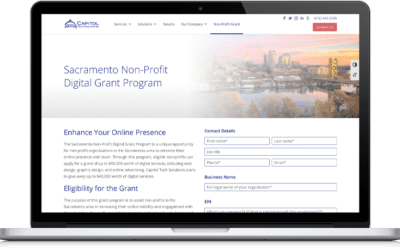 Sacramento-based digital agency invites non-profits to apply for multiple grants up to $10,000 by April 28Sacramento-based digital agency Capitol...
read more
Do you want to improve the speed of your website and increase your user traffic?
Contact Capitol Tech Solutions to find out how we can start improving your business's User Experience Today!