3x more page views from Instagram users
In this organic social media case study, you're going to see how we helped a successful brand start from nothing on social to attributable sales within six months.
1 Stop Lighting, an eCommerce Retailer located in Sacramento, CA, has built their business on successfully selling home lighting products through their online store.
They were very good at finding customers through Google Adwords campaigns, yet as competition increased and shoppers habits changed, 1 Stop Lighting knew they needed to diversify their marketing efforts to attract new customers, and compete with the largest eRetailers, such as Amazon and Way Fair.
1 Stop Lighting engaged with the Social Media experts at Capitol Tech Solutions to tackle this new initiative, and the efforts lead to measurable sales within 6 months from kick off.
Social media is now an integral part of 1 stop lightings marketing efforts, and the continued efforts will lead to sales growth.
After 8 months of effort, we accomplished:
8,000 Instagram Followers
45,907 post likes
15,101 post comments
2,187,205 Impressions
1,046,739 unique views
10,388 Instagram Story Views
17 influencers gained 52,432 post likes
6,311 clicks to website
Instagram users average 3x more page views.
Just want to thank you for your support and guidance. Never would have happened without our partnership!
Organic Social Media Marketing Goals
The primary goal of any marketing campaign is more sales. Businesses invest in marketing for growth.
But for an Organic Social Media campaign, 1 Stop knew sales would not come immediately. So we picked some initial measurable goals, that if executed well, should lead to sales.
1. Develop a posting plan and schedule, and post on a regular basis
Our team reviewed all of the provided content, and built out a plan for regular posting for several months in advance.
2. Develop a brand voice.
We want to be seen as hip and modern, so developing a brand voice that speaks to our customers is critical
3. Boost Followers on Instagram by 10,000 – 15,000 per year
We want to boost followers so each time we post, more people see it.
4. Become engaged in the social community
This meant interacting with people who comment, post, ask questions, and interact on our social media channels
5. Engage with 2-4 Influencers per month for affiliate program
Influencers are folks who already have a large number of followers, and we want to leverage their followers for sales.
6. Increase Mailing Lists by 1,000 subscribers
Email Marketing is still one of the most cost-effective forms of marketing, and integrating social with other marketing forms should lead to sales.
7. Constant Improvement
We aren't trying to get lucky with a viral hit. We want to see steady and constant growth, that will build a successful brand overtime.
With the above 7 goals as targets, we set off on implementing our organic social media strategy.
Social Media Process and Methods
The first steps in a successful Organic Social Media project is learning about the customer. We dive into all of the following during our first official meeting:
1. Current brand and position in the market
Existing marketing strategies
Existing materials
Current customer personas
Current media to work with
2. Competitors
Review competitor's social channels
What are competitors doing well/not well
3. Partners
Do partners have material and content we can leverage
Review partner's social channels
4. Key roles and individuals
5. Expectations and Deliverables
With a base knowledge of the brand, their competitors, the key people we are working with, and expected deliverables, we were armed with what we need to start implementing a social media plan.
We researched 1 Stop Lightings current brands, the brands they carry, and reviewed all of the material. Fortunately, they had several images that worked well for social we were able to work with.
This was somewhat surprising since many brands don't understand what works on social vs what works on their website.
People are social want to see Lifestyle images, not basic product images. So we sorted through thousands of images to find great Lifestyle images that would make their social media pop.
Once we had media selected, we planned out a posting calendar over the next 3-6 months. This is critical to have a solid posting plan, so on a daily basis we can focus on efforts on interaction, not on sourcing content.
Next, we brainstormed on the voice we want to portray on their social channels. We opted for hip and trendy, and focused our voice on the demographics that match 1 Stop Lightings largest customer segment.
We also worked with the technical team to fully take advantage of Instagrams Tap to Shop eCommerce feature. By setting this up, viewers can link directly to the products in the image and purchase them, streamlining the sales process.
Social Marketing Implementation
With the plan set in place, we began to implement our strategy. We went out the gate heavy on posts on Instagram to help fill the channel. Simultaneously we cleaned up old Pinterest boards, and developed new boards with common lifestyle themes.
We actively engaged in the interior designer community Instagram.
We actively targeted competitors brands and engaging with their followers. Since followers of competitors are interested in the industry, they have a higher likelihood of following our brand as well.
We constantly monitored the channel, responding to each and every comment, DM'ing followers, and engaging on their posts.
We also commented and liked similar competitors and pages of brands we sell. By engaging with partner businesses, we leveraged their networks.
We spent hours of our time, day and night, engaging in the social community. We constantly were seeking out more users who were interested in our products, and put in the time to market our brand.
4 months into the project, we began giveaways and contests to encourage more followers and likes. We ran campaigns that required email signups to build up our email lists.
The results continued to build on each other each month.
For Pinterest, we redesigned all the boards based on interior styles as opposed to product types. By aligning boards more closely to shopping habits, we saw an improvement in engagement.
We actively updated boards on a daily basis to showcase new and existing products.
Keep reading to see the phenomenal results!
Don't count on going viral!
Contact Capitol Tech Solutions today to get real measurable social results for your business.
Social Media Marketing Concrete Results
The results were tracked through various platforms and measure conversions, and end customer surveys.
By June, we had the following results:
8,000 Instagram Followers
45,907 post likes
15,101 post comments
2,187,205 Impressions
1,046,739 unique views
10,388 Instagram Story Views
17 influencers gained 52,432 post likes
6,311 clicks to website
Instagram users average 3x more page views.
10,191 Average Daily Impressoins
8,448 Average Daily Viewers
349,891 Average Monthly Viewers
11,673 Average Monthly Engagement
Instagram Referral Traffic
With each month, we saw improvement in our measurable social statistics. But, while we were growing our social channels, was it making a different in our sales. Ultimately, you have to buy off the website, so let's look at Google Analytics and see if we are generating more traffic.
| Oct | Nov | Dec | Jan | Feb | Mar | Apr | May | Jun |
| --- | --- | --- | --- | --- | --- | --- | --- | --- |
| 188 | 469 | 371 | 690 | 1005 | 595 | 1036 | 1018 | 780 |
That traffic directly from Instagram led to 133 sales.
Direct Website Traffic Growth
Direct traffic to the website was also up year over year. While this isn't necessarily attributable directly to social, social does play a role based on brand building and awareness.
| Direct Website Traffic 2018 | Direct Website Traffic 2019 |
| --- | --- |
| Apr – 11,101 | Apr – 15,191 |
| May – 16,136 | May – 16,408 |
| Jun – 13,522 – 40,759 | Jun – 14,641- 46,240 |
That's 13% growth in Direct traffic to the website year over year.
Pinterest Referral Traffic
Pinterest is more susceptible to spikes based on seasonality, but we still showed solid growth in several months.
| Pinterest 2018 Results | Pinterest 2019 Results |
| --- | --- |
| Jan – 679 | Jan – 1,290 |
| Feb – 657 | Feb – 1,164 |
| Mar – 691 | Mar – 935 |
| Apr – 699 | Apr – 1,434 |
| May – 637 | May – 640 |
| Jun – 630 – 3,993 | Jun – 651- 6,114 |
That is a 53% growth in website traffic on Pinterest in the first 6 months of the year. Every month showed year over year growth.
That website traffic led to 128 sales.
So what do you after you have significant growth in social media after 8 months? You keep it going! Instragram is notorious for adding capabilities as you add more followers.
Wired Magazine
has a story that mentions features after 10,000 followers.
But we have to look back at the overall goals of 1 Stop Lighting. Ultimately they are trying to increase sales through marketing. By building a solid set of followers on Instragram, it is now time to leverage all that hard work to build that base.
1 Stop can now cost effectively push sales, coupons, and other merchandise to their large follower base.
They can continue to engage in the community. With every post, more and more followers will see their brand.
They can continue to work with influencers. As their brand continue to build, it will open the door to more influencers looking to collaborate.
Every social action will be more effective than the last. We look forward to continuing our successful social media strategy with 1 Stop Lighting.
Social Media Reference and Acknowledgements
Thanks to
1 Stop Lighting
for working with us on this project, and providing insight into their social conversion data.
Other resources include:
Articles You May Find Helpful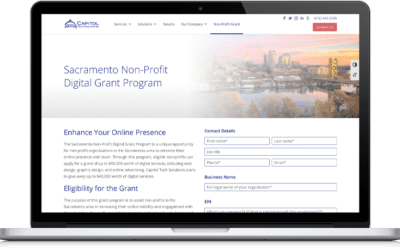 Sacramento-based digital agency invites non-profits to apply for multiple grants up to $10,000 by April 28Sacramento-based digital agency Capitol...
read more
Do you want to improve the speed of your website and increase your user traffic?
Contact Capitol Tech Solutions to find out how we can start improving your business's User Experience Today!