Our SEO team is constantly expanding upon their expertise
August 30, 2019
Author: Lyna Vu
When potential customers search Google for a business such as yours, it's important that your website be on the first page of search results, and not buried on other pages. At Capitol Tech Solutions, we can help your business appear on the first page of Google by implementing Search Engine Optimization (SEO). When your website reaches the first page of Google's rankings, you will see an increase in traffic and leads. More business and more exposure for your company!
Search engines are getting smarter and constantly changing how they rank websites. The most successful businesses adapt to these changes in order to stay on top. They do this by making SEO a recurring and prioritized investment, because it is important for SEO to constantly be adapting to search engine changes. Even as a recurring investment SEO is still the most cost-effective way to enhance a business's digital presence.
Our digital marketing team has years of experience in SEO. Each team member studies all 164 pages of the Google Content Guidelines, which we consider to be the holy grail of SEO. From there, our team continuously stays up to date with the latest SEO trends to ensure the best SEO results for our clients.
But don't take our word for it. Thanks to the hard work and excellent results of our digital marketing team, CTS has been recognized as the #1 SEO Company in Sacramento. We take immense pride in receiving this recognition because it reflects our level of expertise and dedication to the success for our clients.
Our SEO Experts would love to share their expertise! Let's start your journey to the first page of Google's rankings!
Capitol Tech Solutions is proud to be recognized on Top SEO Companies in Sacramento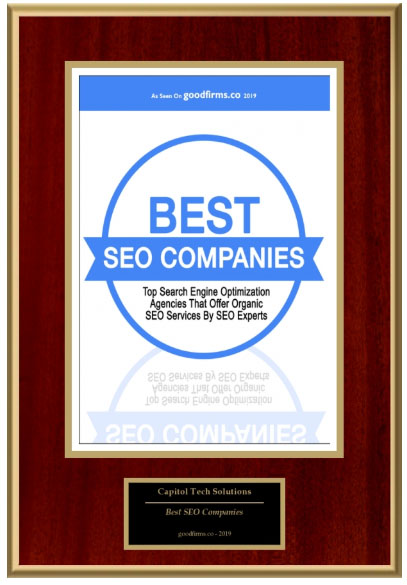 "Our team is grateful for the recognition of the SEO work we provide for our clients' success," said Bobby Reed, CEO, and founder of Capitol Tech Solutions. "Our new team members have strengthened our SEO skill set, and this recognition is a testament to the talented individuals that make up our Digital Team."
Capitol Tech Solutions takes pride in being recognized on the list of Top SEO Companies in Sacramento because it demonstrates that our hard work doesn't go unnoticed. We are making a difference in the digital marketing world and are excited to see what's to come in the future.
Our Digital Marketing Specialist achieves the Google Tag Manager Fundamentals Certification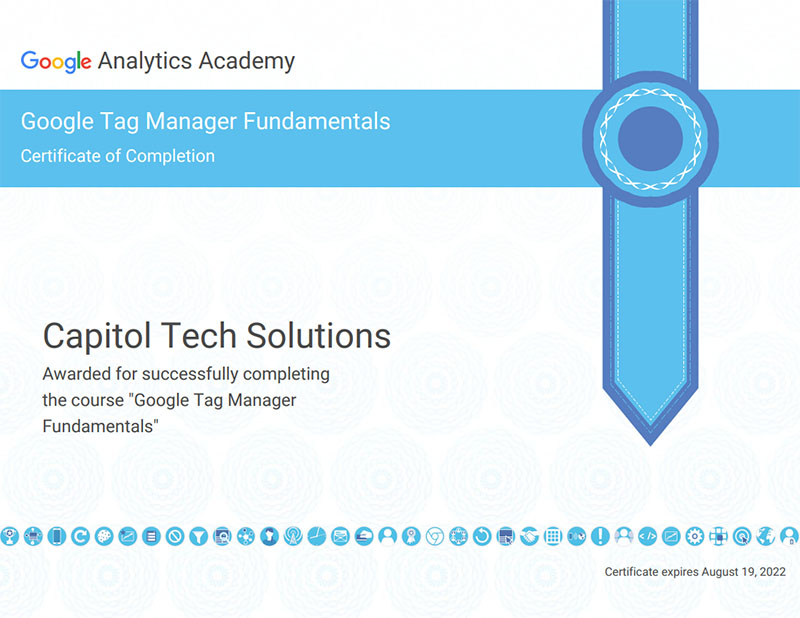 Our Digital Marketing Specialist, Kevin Olson, has recently achieved certification for Google Tag Manager Fundamentals. This free tool helps our marketers deploy and track marketing tags in one place without breaking code.
"It was a great learning experience to complete Google's Tag Manager Certification course," said Digital Marketing Specialist, Kevin Olson. "I have used Google Tag Manager before, but the certification process introduced me to new features and functionality. I am excited to apply what I learned to future products!"
Google Tag Manager gives our web developers a break because our marketing specialists can implement tags without having to consult a developer. The tool lessens the reliance on web developers, freeing them up to handle the high priority development projects.
Here are the perks of Google Tag Manager:
Faster loading speed
Testing flexibility
Third-party code in one place
Shows preview before going live
Accessible with non-Google products
Allows data to be customized before sent to Google Analytics
Is Google Tag Manager different from Google Analytics?
Yes, Google Tag Manager and Google Analytics are two different platforms. Google Tag Manager only stores and manages data, while Google Analytics does actual reporting and analysis. They work together to maximize a website's performance.
We are excited that our team is certified in both Google Tag Manager and Google Analytics. Read our blog on Alex Wright's achievement in getting certified for Google Analytics here!
Capitol Tech Solutions implements Google's best practices to help our clients' websites rank on the first page of Google. We are proud to offer expertise in Google's most effective tools and are always looking for ways to expand our skill set to maximize results for our clients!
Our Digital Marketing Team works hard to achieve your unique business goals. Contact us!